Obituary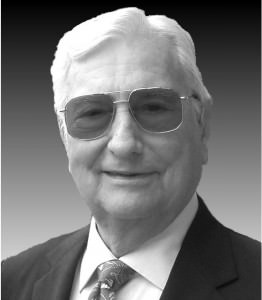 William P. Benton
William P. Benton, 85, died February 19, 2009 of cancer. He is survived by his wife Blanche, his daughters Barbara Benton, Roxanne Darling and her partner Shane Robinson, Judy Dennis and her husband Mike Dennis, and Nancy Lievois and her husband Jim Lievois, along with grandchildren Carlie Dennis, Annie Dennis, Christina Dennis, Jordan Lievois, and Tyler Lievois.
Mr. Benton is a resident of Palm Beach, FL, and Bloomfield Hills, MI. He was born November 4, 1923 in Laurinburg, NC.
William Benton was a highly experienced and well recognized worldwide automotive sales and marketing executive. He had a successful career with Ford Motor Company, departing as Global Vice President of Worldwide Marketing after 37 years. In 1984 he became Deputy Chairman of British Car Auction Group PLC, and Chairman and Chief Executive of its two US operations, British Car Auction Group, Inc. and Sandgate Corporation Inc. In 1986 he became Vice Chairman of Wells Rich Greene/BDDP Inc. (New York ) where he was responsible for overseeing the Ford Corporate advertising account and new business. He joined Ogilvy & Mather Worldwide (New York) in 1997 as Executive Director also overseeing the Ford Corporate account and global brand management until his resignation in January, 2002.
His service in the U.S. Army Air Force in the European Theater of operations in World War II earned him the French Croix de Guerre and the Bronze Star.
Following undergraduate studies in Business Administration at the University of North Carolina, Mr. Benton joined Ford Motor Company in 1947 as a Sales Management trainee with Ford Division's District Sales office in Charlotte, NC. Over his 37 year career with Ford, he held numerous Sales and Marketing positions.
Key accomplishments include the development and execution program for Ford's highly successful Mustang car, introduced in April, 1964. He was personally responsible for the nomenclature "Lincoln Town Car", Ford's number one selling luxury car ever. While at Lincoln-Mercury Division, he was also instrumental in the development of the "designer series" concept.
Ford built the original "popemobile" and later, at the personal request of Henry Ford II, Mr. Benton delivered a custom car to Pope John Paul II with a personal audience at the Vatican. While at Wells Rich Greene, Mr. Benton oversaw the Ford Corporate advertising account and the infamous "Quality is Job 1" slogan.
Mr. Benton has a long history of volunteer service for Multiple Sclerosis where he was Chairman of the International Federation of MS Societies International Development and Member Societies' Fundraising Committees. He has served as General Chairman of the Meadowbrook Music Festival and Theater and the Automotive Division of the United Foundation Torch Drive.
Giving very generously of his time, Mr. Benton served on the Boards of William and Mary School of Business Administration; Camp Oakland Youth Programs, Inc. (troubled youths); Independence for Life (senior citizens); Greater Detroit Chamber of Commerce, and was a graduate member of the Board of Directors of the Advertising Council, Inc. He has also been a strong supporter of the Schepens Eye Clinic at Harvard University.
He has recently served on the Boards of The Beaumont (Hospital) Foundation, Speedway Motorsports, Inc., Sonic Automotive, and Allied Holdings Inc.
Mr. Benton is a member of Bloomfield Hills Country Club, The Everglades Club (Palm Beach), and Palm Beach Yacht Club.
Bill was well-loved and admired for his optimism and generosity and will be missed by many around the world. More information can be found at www.WilliamPBenton.com. In lieu of flowers, donations can be made to Henry Ford Hospital, Schepens Eye Clinic, Hospice of Palm Beach County, the Multiple Sclerosis Society, or the Juvenile Diabetes Research Foundation. Links to all of these organizations can be found on the right side of any web page.